Economic hardships could persist as bridge financing remains a long shot
Stalled IMF talks could resume with Parliament electing a new president yesterday

"Until time we sign an agreement with IMF and restructure debt, it is going to be tough"- CB governor
The current economic conditions could grind on till Sri Lanka strikes an agreement with the International Monetary Fund (IMF), which will unlock other sources of funding, as bridge financing, which the authorities were hoping for in the interim, remains hard to come by, according to Central Bank Governor Dr. Nandalal Weerasinghe.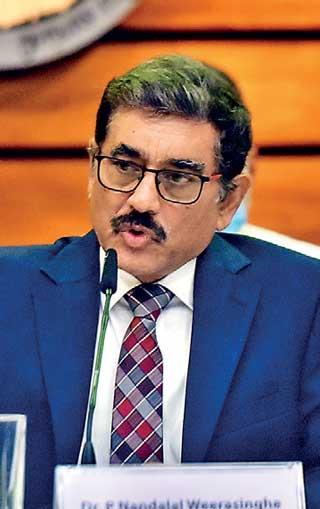 Dr. Nandalal Weerasinghe
The Sri Lankan economy came to an abrupt halt in mid-June after the bridge funding line from India to import fuel and other essentials came to an end, while attempts to obtain credit lines from elsewhere, including China, which was once a close bilateral ally of Sri Lanka, haven't so far materialised.
"If we get some assistance from either India or China in this interim, we can manage this period. We are discussing with them. What we think is, if we get (assistance), things could ease somewhat, if not we will have to continue like this," Dr. Weerasinghe said.
It was recently reported that both India and China may consider further financing to Sri Lanka. India has already extended US $ 3.8 billion worth of assistance to Sri Lanka.
Sri Lankan authorities remain hopeful of US $ 4 billion from China, of which the negotiations are ongoing. Sri Lankans are still in miles-long queues for days for fuel and have been suffering from rolling power cuts for seven months. They have crippled enterprises and lifestyles, as the country doesn't generate sufficient dollars to import fuel to keep its economy humming. "Until the time we sign an agreement with the IMF and restructure debt, it is going to be tough," Dr. Weerasinghe told reporters a few days ago after raising policy rates to further compress demand to rein in inflation.
The only tool the central banks around the world have is the interest rates to ensure price stability and what they do is increase the cost of money through raising the interest rates to bring the demand in parity with the available supply. Mirror Business last week showed that the imports are on course to fall in line with the export earnings after aggressive policy tightening since April by the Central Bank. "What we can import is what we get from exports and what we collect from remittances. So, until that, we will have to import only the essentials and cut down on non-essentials and that adjustment is happening," Dr. Weerasinghe said. It is largely expected that Sri Lanka could resume its IMF talks following the election of Ranil Wicremesinghe as the President by Parliament, yesterday. Although Wickremesinghe's Cabinet is still in the making, the immediate appointment of a finance minister will help Sri Lanka to reach a staff-level agreement with the IMF in the coming few weeks.
Tamilarul.net #Tamil #News #Tamil News #Tamil Daily News #Website #Tamil News Paper #Tamil Nadu Newspaper #Online #Breaking News Headlines #Latest Tamil News #India News #World News #Tamil Film #Jaffna #Kilinochchi #Mannar #Mullathivu #Batticola #Kandy #Srilanka #Colombo