CB says funds allocated for Jan. 18 bond settlement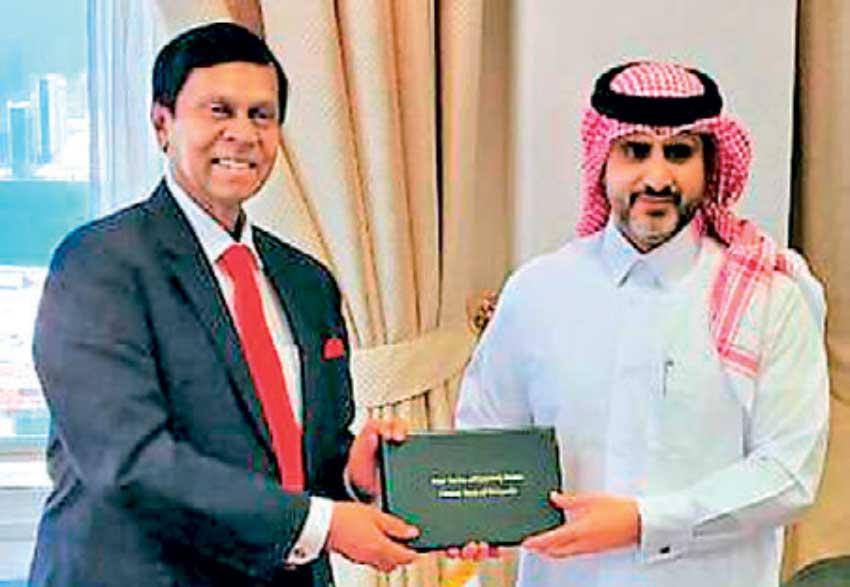 CB Governor Ajith Nivard Cabraal met with newly-appointed Qatar Central Bank Governor Sheikh Bandar Bin Mohammed Bin Saiud Al-Thani, on January 4, 2022, during his visit to Qatar
It appears that CB is positive of wrapping up US $ 1.9bn Indian funding within this month

CB is also hopeful of US $ 1bn worth of swap line from Qatar

Leading economist advises govt. not to settle upcoming US $ 500mn bond to save dollars required for essential imports

He instead suggests govt. to engage with bondholder to negotiate a debt restructuring while only making interest payments
Sri Lanka has set aside the funds required for the upcoming international bond settlement due in less than two weeks, just weeks after Fitch Ratings downgraded the sovereign deeper into the junk category, on the heightened debt default concerns amid razor thin foreign exchange reserves.

Sri Lanka is due to repay two International Sovereign Bonds (ISBs) maturing this year and the first one worth of US $ 500 million falls due on January 18, while the next one worth of US $ 1.0 billion is coming for settlement in July.
According to Central Bank Governor Ajith Nivard Cabraal, the country has already allocated the required funds to retire the bond this month.

"The CBSL has allocated the required #Forex for the USD 500 million #ISB that is maturing on 18 Jan 22. It's a shame that some #investors lost out becoz of organized negative stories spread by certain vested interests. @CBSL #SriLanka #GoSL," Cabraal said in a Twitter message yesterday.

He didn't specify how the Central Bank got the means to allocate the funds but the reports came out during the weekend suggested that the US $ 1.9 billion package, consisting of a US $ 400 million swap, US $ 500 million oil financing facility and another US $ 1,000 million worth of bilateral loan from India is expected within this month.
According to the reports, any one of the funding could materialise as early as January 10.

Sri Lanka last week extended the US $ 200 million three-month swap the country's Central Bank has with its Bangladeshi counterpart by another term, while another billion dollar swap is in the works with the Qatar Central Bank, yet no timeline given for its receipt or if at all it would work out remains uncertain. Currently, Cabraal is in Qatar, holding talks with his counterpart.

Every time the reporters asked about the specifics of the deals, Cabraal said "radio silence" must be maintained for the interest of the lending party.

Earlier this week, the country's Finance Minister Basil Rajapaksa called a press conference to announce a mega Rs.229 billion worth of stimulus package, consisting of all freebies but did not say how the government was going to pay for it. Meanwhile, Dr. Nishan De Mel, an economist and Executive Director at Verite Research, an independent policy think tank based in Colombo, said during the weekend that the country shouldn't settle the upcoming bond payment on January 18, instead must engage with the bondholders for debt restructuring.
Explaining the rationale behind why Sri Lanka should tread on the suggested path, he said it would leave the country with foreign exchange for critical needs such as imports, which would be less calamitous than lacking dollars for imports.

According to him, Sri Lanka is already living a post-default-like way of life as the essential imports are curtailed to save reserves to pay ISBs, which according to him, is a poor strategy with no end in sight.

"Concluding negotiation will typically take at least six months. Ecuador and Argentina did that in that time frame in 2020 and came out of the bind," Dr. De Mel said in his new year resolutions for the Sri Lankan economy, on January 1
Tamilarul.net #Tamil #News #Tamil News #Tamil Daily News #Website #Tamil News Paper #Tamil Nadu Newspaper #Online #Breaking News Headlines #Latest Tamil News #India News #World News #Tamil Film #Jaffna #Kilinochchi #Mannar #Mullathivu #Batticola #Kandy #Srilanka